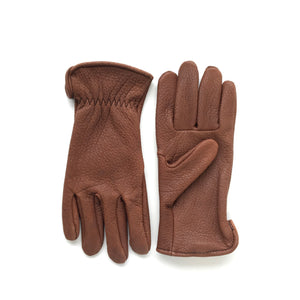 Description
Heavy duty 4-5oz American buffalo leather.  Buffalo has a very textured grain that takes several uses to break in, but is worth the time for a hard wearing glove.  Buffalo leather offers our highest abrasion resistance glove and forms to your hand as you break it in with limited stretch.  A fantastic all around work and chore glove. All purchases are cut and hand sewn to order.    Please allow two weeks for product to ship!  All leathers come from natural hides which may contain scarring, giving each pair its own character.
Sizing 
Measure around your palm... If you don't have a soft tape measure.. use a string, mark it, lay it flat and measure it. This will give you your general size. If you like more or less room you could go up or down from there.  See illustration by going to top of the website and selecting About :: Sizing.  Buffalo has very little stretch, consider staying right at your measurement or sizing up to make it a roomier glove.
Features
4-5oz American buffalo

Drum dyed in the United States
Handmade in Bend, OR, USA
Elastic shirring at wrist, keeps warmth in and debris out
Unlined for spring and summer work

Suggested Uses
Heavy work - barb wire, fencing, etc...
Motorcycle
Rugged fashion
Beautiful leather and construction. Perfectly sized !
These look outstanding! I got these as a Christmas gift for my boyfriend. He'll love them. Great price and craftsmanship!
Great quality, inconsistent sizing
The quality of the leather is great and the stitching is top notch. As work gloves they're nice and for winter wear, I suggest a liner glove as it gets cold even above freezing temps. The issue I had and that I've seen elsewhere is that the sizing per hand isn't always consistent. The left thumb and left pinky are slightly longer than the right handed counterpart. For reference, I ordered a size small.
Very Well Made
Fit my hands perfectly. Almost feels a shame to work in them they are so nice.
Perfect
Great fit. A little tight at first, but I oiled them up and wore them for about an hour. After that the gloves fit great. Second pair of these I've bought. Very durable!