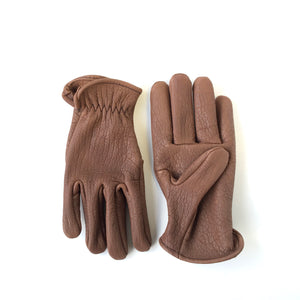 Description
Durable American buffalo.  Buffalo has a rugged grain finish and requires very little maintenance.  Excellent abrasion resistance and forms to your hands with use.  A staple, basic dress or riding glove with an inch shorter cuff than our Buffalo Roper. All purchases are cut and hand sewn to order.    Please allow one week for product to ship!  All leathers come from natural hides which may contain scarring, giving each pair its own character.
Sizing 
Measure around your palm... If you don't have a soft tape measure.. use a string, mark it, lay it flat and measure it. This will give you your general size. If you like more or less room you could go up or down from there.  See illustration by going to top of the website and selecting About :: Sizing.  Buffalo has very little stretch, consider staying right at your measurement or sizing up to make it a roomier glove.
Features
4-5oz American buffalo
Drum dyed in the United States
Handmade in Bend, OR, USA
Unlined for Spring, Summer and Fall dress and riding
Suggested Uses
Fashion  

Driving
Motorcycle 
These could be better
The bison leather is of nice thickness, but has a rubbery feel. It is tougher than the deer skin shorty I also bought. The bison shorty seem to dry out my hands when I wear them (not sure if this is unique to me). The reason for the 3 star is the seam. On the left hand glove pinky and ring finger, seams have bulges that bite into the skin when you make a fist. The right hand glove is fine. I've attached two pictures, one normal and one magnifying the manufacturing defect. Hope Sullivan pays attention and corrects this on the manufacturing side. If not for this, I would give these gloves a higher rating.
A classic, manufactured by skilled artisans.
The material is wonderful quality - thick, beautifully tanned, and smells like the finest leather goods shops.
Slightly tricky getting the right glove on, but that may be due small differences in hand size. Heed the sizing advice. I measured correctly and went up a size, which fits but is a little snug (hoping it loosens up a bit with wear). Could have possibly gone two sizes up, to XL, as there are still pinch points.
Outstanding Glove
This is an extremely well made glove. This leather is very tough and beautiful at the same time. It could be used as a dress or heavy duty work glove depending on your needs.
Motorcycle Favorite
I bought the Buffalo Shortys with touchscreen fingertips to wear while riding my motorcycle. The craftsmanship is outstanding and they keep looking better with age. They broke in easily and quickly became my favorite pair of riding gloves. The touchscreen fingertips work well and are a must-have for my purposes. I added a pair of lined Buffalo Ropers for the cooler rides.