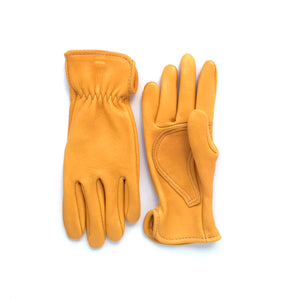 Description
Soft and lightweight American deerskin.  Deerskin has a beautiful grain finish and requires very little maintenance.  Very good abrasion resistance and tolerates moisture well.  Palm patch offers an added layer of leather to extend the life of this great gardening and chore glove.  All purchases are cut and hand sewn to order.    Please allow one week for product to ship!  All leathers come from natural hides which may contain scarring, giving each pair its own character.
Sizing 
Measure around your palm... If you don't have a soft tape measure.. use a string, mark it, lay it flat and measure it. This will give you your general size. If you like more or less room you could go up or down from there.  See illustration by going to top of the website and selecting About :: Sizing.  Deer is a very stretchy leather, we recommend sizing down one size to prevent extra material in the fingertips.  Deerskin should fit tight to begin with and loosen up after a wear or two for a perfect fit.
Features
2.5-3oz American deerskin
Drum dyed in the United States
Made in Bend, OR, USA
Deerskin palm patch
Unlined for spring, summer, and fall work

Suggested Uses
Gardening

Light duty work and chore glove
Goat Roper and Deer Skin Gardner
Both pair of gloves are very supple and fit perfectly. Very well constructed, the build up of material or stitching that you feel on the inside the other gloves is not noticeable in these. I recommend going with their sizing as the medium fits perfectly, in most other glove brands I wear a large.
Bought as a gift
I bought these as a gift for someone who wears the same size as me. They fit perfectly on my hands and I can't wait to give them away on Christmas. I already know these will be cherished for years.
Magnificent gloves
These are one of three different pairs of Sullivan gloves I've bought and all are exceptional. These are a very nice lighter weight, but still substantial, leather that is immediately comfortable. Perfect for any task which requires higher levels of dexterity.