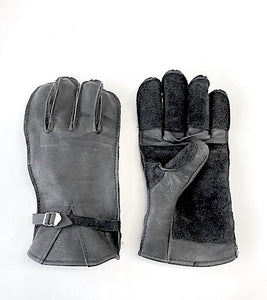 Description
Developed and still used by the US Forest Service helicopter rappel crews.  Cowhide glove with split cow reinforced palm and fingers.  All purchases are cut and hand sewn to order.    Please allow two weeks for product to ship!  All leathers come from natural hides which may contain scarring, giving each pair its own character.
Sizing 
Measure around your palm... If you don't have a soft tape measure.. use a string, mark it, lay it flat and measure it. This will give you your general size. If you like more or less room you could go up or down from there.  See illustration by going to top of the website and selecting About :: Sizing. 
Features
3.5oz American cowhide
Drum dyed in the United States
Made in Bend, OR, USA
Split cowhide palm patch
Unlined 

Suggested Uses
Heavy wear

Work

Ranch
Fencing
BBQ 
Best smoking gloves
Nitrile gloves for the food, leather gloves for the fire. I have been using these to run my smokers for just over 2 years. I can pick out a smoldering log or pick up a coal that has fallen out. In the condition they are in I'll get quite a few more. As a compairison before these I used leather military riggers gloves and I would burn through them in about a year.
Exactly what I needed
I use these gloves for dealing with the burn pile. I'm clumsy. I came close to ruining my garden gloves. An oven mitt only adds to my lack of dexterity. I really like a glove with outside seams (just try to find them) for comfort when wearing them for long periods.
Senior Land Manager
I get hang nails really bad with the regular store bought gloves, I don't with Sullivan Wildland fire gloves. I did order a size to small and returned , waiting to get correct size back . Mac