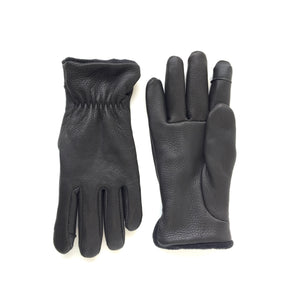 We can add touchscreen fingertips to any glove. If you add this option to your order we will sew on BLACK leather, touchscreen enabled tips onto the index finger and thumb of your gloves. Add this option to your cart for every pair you want to make digitally capable & send us a message specifying which gloves in your order you want to make touchscreen.  Once you add touchscreen to a glove it becomes custom made and is not eligible for exchanges/returns
The Liberty Gloves are beautiful and perfect!
I wanted some nice gloves to fit into my Jedi cosplay and came across Sullivan Gloves. Rather than cheaply made imports, these USA made, stylish, and functional gloves are perfect, complete with conductive fingers for my data pad! They are slightly larger than what I expected from measuring, they could be a bit more snug.
Nice gloves
The gloves are good quality but pricey. I was sent the wrong size and had to return to get the correct size.
Good Option for the basic functions of operating a touchscreen device.
By adding the touchscreen pads you can do the very basics of operating a cell or other touchscreen. Like answering or declining a call. For tasks that require a little more precision like typing on a keypad or navigating a website they are not quite precise enough. But I was not expecting that kind of delicate precision. They are incredibly useful for the basics which is just what I need them to do. A great addition to already amazing gloves.