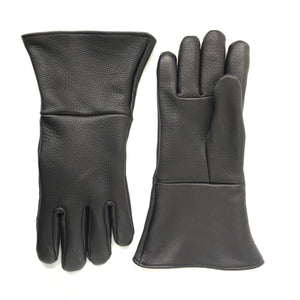 Description
Soft, but heavy American elk skin.  Elk skin has a beautiful grain finish and requires very little maintenance.  Very good abrasion resistance and tolerates moisture well.  The gauntlet extended cuff goes over your jacket for a warmer, more comfortable ride.  All purchases are cut and hand sewn to order.    Please allow one week for product to ship!  All leathers come from natural hides which may contain scarring, giving each pair its own character.
Sizing 
Measure around your palm... If you don't have a soft tape measure.. use a string, mark it, lay it flat and measure it. This will give you your general size. If you like more or less room you could go up or down from there.  See illustration by going to top of the website and selecting About :: Sizing.  Lined gloves should fit true to size, you should not need to size down with a lined elk glove to get a nice snug fit.
Features
4-5oz American elkskin
Drum dyed in the United States
Made in Bend, OR, USA
Gauntlet extended cuff
Lined for Spring, Fall and Winter

Suggested Uses
Better then expected
Thick leather, warm in cold weather! Great craftsmanship !
Elk Gauntlet Lined Gloves
My husband is a happy Harley rider now that he has his beautiful gloves to keep his huge hands warm! They are exquisite and the XL fit is perfect. They will last a lifetime!