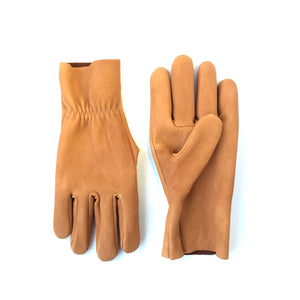 Description
One of the last US made upland shooting gloves.  Soft and lightweight American deerskin.  Deerskin has a beautiful grain finish and requires very little maintenance.  Very good abrasion resistance and tolerates moisture well.  Modeled after classic upland shooting glove for a snug fit and slightly extended wrist length.  All purchases are cut and hand sewn to order.    Please allow two weeks for product to ship!  All leathers come from natural hides which may contain scarring, giving each pair its own character.
Sizing 
Measure around your palm... If you don't have a soft tape measure.. use a string, mark it, lay it flat and measure it. This will give you your general size. If you like more or less room you could go up or down from there.  See illustration by going to top of the website and selecting About :: Sizing.  Deerskin should fit tight to begin with and loosen up after a wear or two for a perfect fit.
Features
2.5-3oz American deerskin
Drum dyed in the United States
Made in Bend, OR, USA
Unlined for dexterity

Suggested Uses
Great quality
Quality meets expectations
shooting gloves
I purchased two sets of deer skin gloves as gifts, I'm told that they fit and feel great! Quality product made in the USA.
True to sizing on website, leather was supple and form fitting.
Great Gloves
These gloves are quality! Top notch leather, quality made, and true to sizing. I'm really glad I found Sullivan Glove Co and made the purchase.