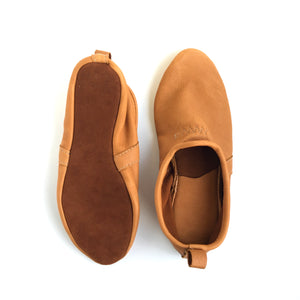 Description
Deerskin slippers are luxuriously comfortable and super breathable making the best around the house slipper you'll ever own.  All purchases are cut and hand sewn to order.    Please allow one week for product to ship!  All leathers come from natural hides which may contain scarring, giving each pair its own character.
Sizing 
In general, we recommend that you size one size down from your shoe size to allow for the natural stretch of the deerskin.  
Features
2.5-3oz American deerskin
Drum dyed in the United States
Made in Bend, OR, USA
Memory foam insole
Best. Slippers. Ever.
I must have bought my first pair of these 20 years ago. I'm embarrassed to say how many pairs I have now; the soles are just wearing through on the oldest. If it's dry I'll wear them to the mailbox or down the path to the hobby shop in the back yard.
Deerskin has that peculiar quality of being warm in the winter and cool in the summer. Order a size smaller if you prefer a snug fit; they will stretch quickly. I have a pair for wearing over bare feet, a pair for everyday socks, and a pair for thick winter socks. And a new pair in reserve just in case Thurlow discontinues this design.
"Like Butter!"
Gave these slippers to my husband for Christmas. He LOVES them! Says they are like butter on his feet. He will never wear anything else around the house. High praise from one who is very particular and finds most socks irritating. Speaking for myself, they are very good looking. Highly recommended!
Great Slippers
Comfy and very well made.
Beautiful slippers
These are incredibly soft and very well made. These exceeded my expectations like all of Sullivan Glove's products.
Comfy cozy deliciousness!
These are THE most comfortable slippers EVER! The fit is wonderful, nothing pinches or rubs. I wanted a pair of slippers that I could keep on when I plop down on the couch and cover up with my woobie, and these are PERFECT. Hardly remember that they are even on my feet. My husband wants a pair now and he is a traditional barefooter even in the winter. THANKS for exceeding my expectations,