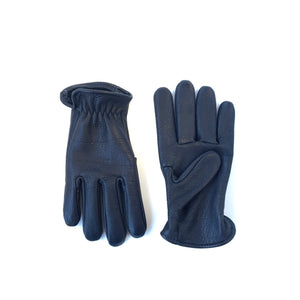 Description
Durable, yet soft American Elkskin.  Elkskin has a beautiful grain finish and requires very little maintenance.  Excellent abrasion resistance and tolerates moisture well.  A staple, basic dress or riding glove with an inch shorter cuff than our Elkskin Roper.  All purchases are cut and hand sewn to order.    Please allow two weeks for product to ship!  All leathers come from natural hides which may contain scarring, giving each pair its own character.
Sizing 
Measure around your palm... If you don't have a soft tape measure.. use a string, mark it, lay it flat and measure it. This will give you your general size. If you like more or less room you could go up or down from there.  See illustration by going to top of the website and selecting About :: Sizing.  
Features
4oz American Elk
Drum dyed in the United States
Made in Bend, OR, USA
Unlined for Spring, Summer and Fall dress and riding
Suggested Uses
Fashion  
Driving
Motorcycle 
SULLIVAN GLOVE ELK SHORTY
Best pair of gloves I have had in many years. Old style quality and workmanship like i found in the saddle shops of the southwest years ago. And they fit like a glove, pun intended! Thanks so much guys for something truly worth the money spent! Will be ordering another more.
Thanks again.
Rick P.
Great gloves.
New gloves showed up in the mailbox quickly. This was a replacement of a pair of your gloves I picked up at the Spokane Beemer Rally. They are just now getting tired. Great Product.